What would cause one to delay taking down their Christmas tree until February?
A family end-of-life illness and death.  A manuscript deadline that must be met.
And three other non-negociables, one including a visit in the thick of a snowstorm to the ICU bedside of a woman I barely knew but had prayed for . . . for years.
It all started back in 2015.  Christian and I had recently moved to NJ and started attending Living Word Community Church.  Two weeks in, I caught wind of their upcoming Women's Fall Retreat, and I thought it would be a great way to get to know the women without three children in tow.
"It'll be the perfect opportunity," I told Christian.
"But you don't know anybody," he said.
"Exactly!"
I had a great time.  I left the area knowing maybe five ladies' names and returned home with 60 friends.
Christine Staffa and Alicia Figureoa among them.  Jillian Staffa also attended, but I really connected with Christine and Alicia late one night while we created masterpieces with adult coloring books and colored pencils.  Our conversation would go deep and then lighten with laughter, rolling around like waves in the ocean.
What a treat it was getting to know them!  This mother and daughter shared that they were excited Jillian had come to the retreat for the first time, and they also asked for prayer that Shayna, Christine's third daughter, would come one day.
So after I came home, the kids and I made a leaf for Shayna on our kitchen prayer tree.
Shayna didn't come the following year, but the week before this year's retreat, I got wind that she was finally coming!  Christine introduced us, but I didn't get to see much of Shayna because I had the privilege of speaking about how God carried and kept my family and I through medical crisis.
Little did any of us know how pertinent that message would become.
Roughly a month later after a Sunday service, Shayna became a Christian!  Tears of joy ran down many faces as she made her way to hug her mother, sisters, and brother-in-law, Chris.
Their FaceBook pages erupted with smiles and and cookie baking, Christmas lights and pajamas, their faces aglow as they celebrated Shayna's newfound joy and the birth of our Savior.
Until New Year's Day.
Shayna had had a terrible cold the few days before.  Due to a headache, she skipped the New Year's Eve's festivities and went to bed before they began.  Christine had been concerned, so Shayna had agreed to stay at her mother's house (instead of her apartment) that night.
Thank God.
The entire family had hoped and prayed that Shayna would recover from her nasty illness quickly, as they had planned to leave four days later to celebrate Shayna's 30th birthday in Mexico.  But they never got off the ground.
Thank God.
Christine woke Shayna at midnight with a "Happy New Year's!"  Shayna woke but said she was so confused.  Assuming she was disoriented from sleeping in a different place, Christine told her to rest.
I got a text the following day that Shayna was in the ICU.
My family had driven to Chicago to visit cousins, and as we sped down the highway, my mind reeled.  This sweet family.  Their holidays had been so full of joy and now . . . blood work and exams, spinal taps and tests.  Revealing nothing.  The doctors put her on antibiotics and antiviral medication, hoping that would hold her until the cultures came back.
As I joined the many pleading for her life, praying mile after mile, I stared out the window, not really seeing anything at all, wishing we weren't hundreds of miles from home while sweet Shayna lay in the ICU.
Suddenly, I noticed a far off movement in the sky, a large, lone bird coming into view.  My breath caught in my throat as I noticed its powerful brown wings, fierce golden talons, and bald white head.
Looking right at me.
Christian glanced at me, then at the bird, nearly pressing his nose to the glass as he drove.  The bird made a sharp right and disappeared from my line of sight.
"Is that . . . was that a bald eagle?"  He craned his neck, glancing back, then forward to the road, then back again.
"Yes, it was," I said, tears forming in my eyes.
"Where?  Where?"  Three heads whipped around in the back seat, one claiming to see it while the others searched the sky.
After the ensuing hullabaloo died down, I returned to my thoughts, thanking God for what I believe He sent as a sign to reassure me.
I have her.
Peace washed over me as my heart kept speaking those words.  I didn't know what the eventual outcome would be, but I could rest in the waiting because I knew He would carry and keep Shayna – and her entire family – every step of the journey, however long and windy they would find it.
Once home, the kids put up another prayer leaf for Shayna.  We'd moved her first leaf from the PLEASE, GOD tree to the THANK YOU, GOD tree, so we felt like she deserved a fresh one.  That night at church, the kids told Chris that we were praying for their family.  He knelt down and took time talking with each one, knowing they understood much of what his family was experiencing.
It was a powerful moment in their young lives.
In the days that followed, had I not had the sign of the eagle, I don't think I would have been able to maintain such steadiness.  A decent snowstorm descended upon our state the day I'd planned to visit Shayna, but it didn't phase me in the least.  I woke up that morning knowing where I needed to go.  The storm was simply the background on the set.  Some might think I'm crazy, but after all my family has been through medically, 99.9% of the time, weather doesn't alter my plans.
People are important.
I remember every person who came to see me in the hospital and those who visited my children.  I will never forget you.  May God forgive me for not making more such visits in my earlier years, for only now do I understand their full impact.
Tests came back positive for viral encephalitis, a condition treated by the antiviral medication she'd begun receiving upon her admission to the ER.  By January fourth, the drugs really began to kick in, to the point where she responded clearly to the doctors' questions and to family members.  Shayna continued to quickly improve and was soon discharged.
Hallelujah!!!
When I got the text from Alicia that Shayna was being discharged, I ran outside to tell the kids.  They whooped and danced around, sharing in the miracle of the life they'd prayed for, one through whom they had witnessed miraculous healing, one they could relate to.
"She's a miracle," one of the kids shouted, "just like us!"
Shayna's healing as well as this family's faith has renewed my personal sense of urgency to tell others how GREAT our God is and that He still works miracles today.
Time is so short.
Thank you, Shayna, for coming on the retreat and giving it a chance.  I'm grateful you're my sister in the Lord and have found healing in both body and soul.  And thank you for sharing your Three Mighty Warriors inspiring clothing, decor, and accessory designs with the world.
Thank you, Jill, for standing strong in the midst of difficult seasons – I know it isn't easy.  And thank you, Alicia, for being such a diehard, inspirational prayer warrior and friend.
Your family is amazing, Christine.  Thank you for being such a great example of a wife and mother, raising three mighty warriors for Him.
May God continue to richly bless you all.
As a special thank you to Shayna for letting me share her story, I'm offering a Lion of Judah Tee Giveaway from her Etsy shop, Three Mighty Warriors.  Please complete the survey below for a chance to win!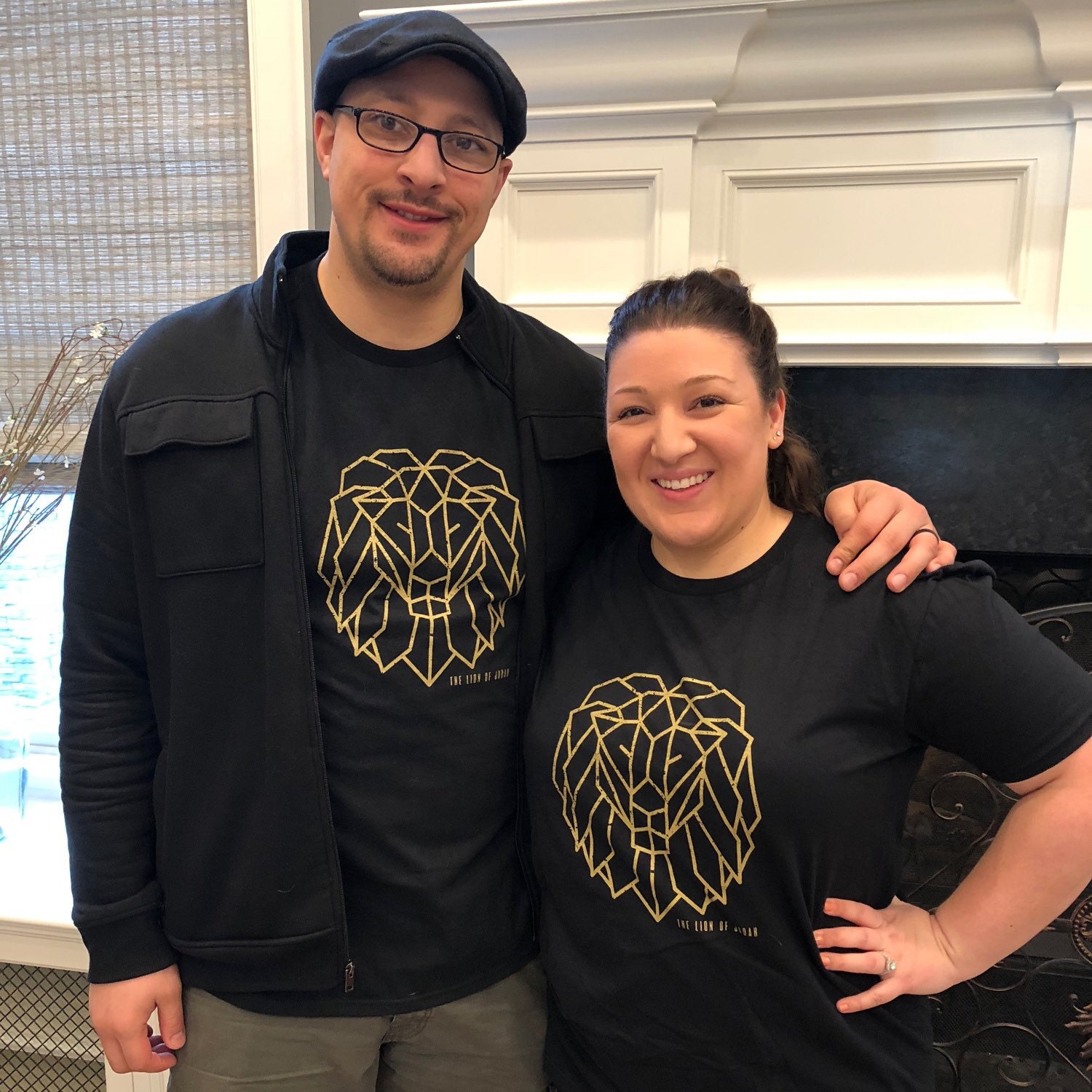 (Three Mighty Warriors' Lion of Judah Tee modeled by Chris and Alicia Figueroa)
Survey (click link below):
https://gleam.io/lUFNB/drinking-from-the-well-lion-of-judah-tee-giveaway